Location
HILLTOP LODGE'S MOTOCROSS FARM
977 MOORE HILL RD.
CALL 609-214-7817
EMPORIUM, PA. 15834
BETWEEN ST. MARYS AND EMPORIUM, ON RT. 120, VILLAGE OF HOWARD
Cameron County, PA is in the Allegheny Mountains of North Central Pennsylvania. If your "routine" consists of the hustle-bustle of city traffic, a job requiring more hours than you have, a difficult boss and obnoxious co-workers, a spouse whom you seldom see and kids who are involved in Scouts, Little League and a dozen school activities, then you NEED a REST! Bring the whole family to Hilltop Lodge to enjoy an extremely relaxing week in our mountains.
| | | | |
| --- | --- | --- | --- |
| Olean, NY | 1 hour | Erie, PA | 3 hours |
| Williamsport, PA | 2 hours | Cleveland, OH | 5 hours |
| Buffalo, NY | 3 hours | Baltimore, MD | 5 hours |
| Rochester, NY | 3 hours | New York, NY | 6 hours |
| Pittsburgh, PA | 3 hours | Washington, D.C. | 6 hours |
| Lancaster, PA | 3 hours | Chicago, IL | 10 hours |
Helpful Directions

From route 80 east and west in PENNSYLVANIA. Take Interstate 80 to exit 111(old exit 18), take PA Route 153 north into PENNFIELD, then PA Route 255 north into SAINT MARY'S, PA. Then PA Route 120 east to TRUMAN, then "VILLAGE OF HOWARD". At HOWARD, take only road bearing right, off route 120. Paved road goes over railroad tracks, then small bridge and up MOORE HILL,(nice views). When top of MOORE HILL you come to a fork in road, stay to LEFT paved road,( straight is dirt and goes to HICKS RUN and ELK STATE FOREST). Driveway is immediatly on the left coming out of fork.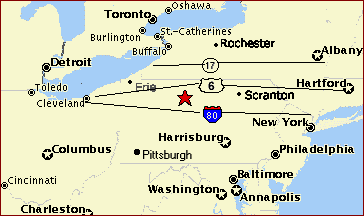 Motocross Farm Boundaries Survey Map
Featured Attractions
Ski Denton
Ski Denton is located in the heart of Northern Pennsylvania's heavy snow country on US Route 6. Situated between Galeton and Coudersport, its beautif ...
Pennsylvania's Elk Herd
Cameron County hosts the largest elk herd east of the Mississippi... and you'll be close to them here at Hilltop Lodge. For info on the herd, its history, its range and lots more.
...